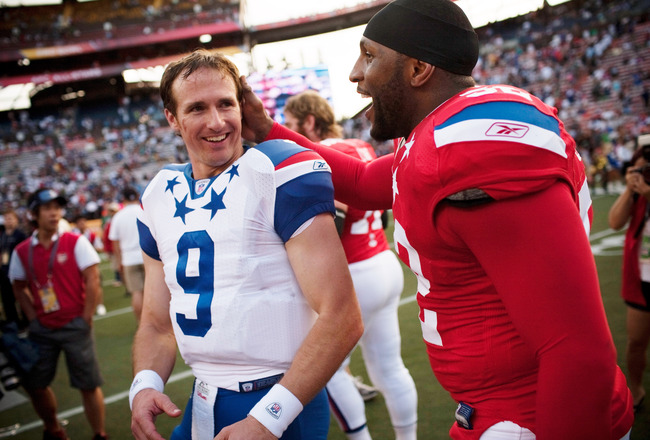 The Pro Bowl has mercifully ended in a 59-41 AFC win and the Saints players that were involved all had notable moments. The NFC coaches decide to leave Cam Newton in for the entire second half, and he was an absolute disaster out there. He was horribly inaccurate with his throws, his footwork was terrible, he threw three miserable interceptions, and he struggled to shake off the round of boos he endured for almost the entirety of the fourth quarter. If he can play half as bad next season the Saints will be able to easily take care of the Panthers again. As expected, the game showcased both defenses hardly trying and that resulted in a number of big plays and explosive scores. Still, there were some decent moments. Hopefully I watched the Pro Bowl so you wouldn't have to, and you're reading this write up right now in lieu sitting through that.
Drew Brees finished…
10-14 for 145 yards and 2 touchdowns. He was solid out there. Jimmy Graham made most of his plays with Brees in the game, and he finished with 5 catches for 73 yards and a touchdown. Brees throwing a touchdown to Graham was the highlight of the game for me as a Saints fan. On the NFC's final touchdown, Brees attempted a drop kick for the extra point and it failed miserably. It was worth the comedy, but it's too bad Brees couldn't connect. Who knows when he'll get another shot to do that in a game. His kick saild just underneath the upright and he just didn't get enough lift on it.
Carl Nicks and Jahri Evans both played pretty well, though the defensive players didn't really attempt to get penetration for most of the game. Nicks did make a tackle downfield on one of the many Newton interceptions, so he'll have that statistical play for the rest of his life. Nicks did a good job of picking up a couple surprising attempts to rush, and Evans finished off a Marshawn Lynch run with his trademark push at the end of the play for extra yardage. Jermon Bushrod struggled mightily in the 4th quarter when he was faced up against Von Miller playing right tackle. He gave up two sacks and looked pretty bad out there. I guess he got comfortable with defenders not trying, and once Von Miller decided to try to make a play, he blew right past Bushrod with ease.
So that's the gist of the Pro Bowl. Glad it's over now and our guys escape that game with no injuries. For what it's worth they seemed to be having a good time out there.